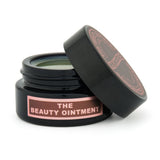 Glycelene
THE BEAUTY OINTMENT | MINI
THE PETROLEUM JELLY ALTERNATIVE
A luxurious indulgence, this one of a kind anti-aging ointment doubles as a intense beauty balm for dry areas needing extra nourishment and as a hydration mask creating the ultimate beauty remedy. This unique ointment is rich in Omega-6 and CoQ10. It rejuvenates and revitalizes while repairing damaged and aged skin.  The Beauty Ointment is a dynamic, multi-functional skin and lip care product.
BENEFITS
Item 1
Item 2
Item 3
Item 4
Item 5
KEY INGREDIENTS
Item 1
Item 2
Item 3
Item 4
Item 5
Apply generously to any area in need of hydration. Excellent for all skin types. Use several times a day for best results.
For a hydration mask, apply to face, neck, and decollate overnight for maximum hydration.