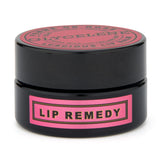 Glycelene
FEMME DE ROSE LIP REMEDY
Tantalizing. Soothing. Age-Defying.
This nourishing, seductive lip balm will have you licking your lips for more. Femme De Rose Lip Remedy is crafted with a signature blend of minty-citrus essential oils and exotic extracts. Infused with the perfect amount of moisturizing rose petal wax, leaving your lips soft, supple and silky. 
Skin Tip - Use Chardonnay Sugar in Pink Peppermint first to prep, then apply Femme De Rose to nourish your lips
Rose Wax - This petal wax has moisturizing phospholipids which are vital for intense hydration for lip repair.
Kalahari Melon Seed Oil - an ancestor of the watermelon & grown across the Kalahari desert, this oil is an excellent source of Omega-6 essential fatty acids that give strong moisturizing and restructuring properties.
CoQ10 - an antioxidant and found in every cell in your body. Promotes cell renewal.
Sea Buckthorn Oil - slows down the signs of aging by nourishing the tissues in your skin & lips.
Rosehip Oil - high in essential fatty acids, vitamins A, B, C & E
Apply anytime onto lips and under your lipstick.