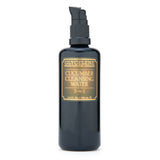 Glycelene
CUCUMBER CLEANSING WATER
Calm. Clean. Skin Prep
 A Makeup-Artist's Best Kept Secret.
Cucumber Cleansing Water does it all. This cleansing toner refreshes, balances pH, calms, removes makeup, eye-makeup, sunscreen and grime. Cucumber Cleansing Water's unique chemistry pulls dirt out, delivers minerals in, and reduces pore size. Balanced with a distinctive pH mineral suspension, it reduces skin oiliness without reducing skin moisture. Also preps skin for maximum absorption of serums and treatments that follow. 
 Best for All Skin Types. Especially anyone with dry/sensitive skin or rosacea. This miracle water also works really well to calm a sunburn/windburn.
Skin Tip - Use after Luxury Facial Cleanser as a second cleanse and always use before and after a workout for a clean sweat which helps prevent breakouts.
Makeup Artist - This is a product created by a makeup artist and used on celebrities all over the world. It's a must-have in your kit and excellent for removing makeup for quick changes. Gently takes off all makeup including lip stain and waterproof mascara.
CUCUMBER EXTRACT - Rejuvenates tired skin, tightens and calms.
MONTMORILLONITE MINERAL EXTRACT - From the French Alps, a healing clay rich in skin-health boosting minerals. Reduces pore size & skin oiliness without reducing skin moisture.
RED & BROWN ALGAE - An antioxidant that reduces redness and swelling.
CANADIAN WILLOWHERB - Strong anti-irritant and anti-inflammatory. Helps prevent blemishes.
Saturate a cotton pad with Cucumber Cleansing Water and swipe over entire face, neck and chest to remove excess makeup, sunscreen and impurities. Do not rinse off. Use as often as needed.