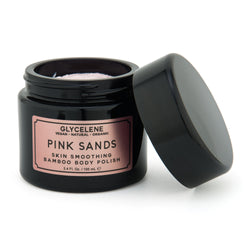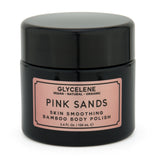 Glycelene
PINK SANDS BAMBOO BODY POLISH
SKIN SOOTHING BAMBOO BODY POLISH
A lush, hydrating, pink body scrub that thoroughly exfoliates and micro-polishes to leave skin feeling ultra-smooth, moisturized and renewed. This body polish contains biodegradable, multi-tasking bamboo, jojoba spheres and moroccan rose petals infused in luxurious oils.
Skin Tip - Apply GLISTEN Body Balm mixed with Chardonnay Body Butter after rinsing off Pink Sands for supremely soft skin.
Best For - All Skin Types, Dry Skin
Mineral Rich Bamboo renews the skin cells without scratching the skin.
Rose Petals are high in vitamin C to help stimulate collagen.
Kalahari Melon Seed Oil has moisturizing, regenerating and restructuring properties, thanks to its high content of essential fatty acids (50 to 70% linoleic acid), which are not synthesized by the body. They contribute to the integrity of the cell wall and to the suppleness and beauty of the skin
Prickly Pear and Cactus Fruit extract are rich in Vitamins C, E and K.
Anti Inflammatory Antioxidants such as red and brown algae and brown seaweed soften and smooth skin and remove dead skin cells that clog pores
Caffeine constricts small blood vessels and improves circulation, helping to reduce redness. It also helps reduce the appearance of cellulite.
Jojoba Spheres gently clean, and do not damage the skin or leave it open for bacteria to invade. They are also beneficial for back acne and will not irritate or scratch skin.
Grapefruit Essential Oil detoxifies.
Rose Geranium Essential Oil helps in fading the look of scars and other spots on the skin quickly. It increases blood circulation right below the surface of the skin
Chardonnay Grapeseed Oil, Sea Buckthorn and Rosehip Oil enrich your skin with vitamins A and E.
Apply on dry or slightly damp skin everywhere on the body before taking a shower, massaging in circles. It will not fall on the ground. Get into the shower and rinse off. Apply GLISTEN Body Balm mixed with Chardonnay Body Butter onto freshly exfoliated skin.