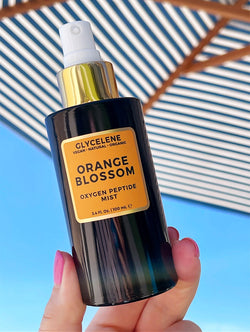 Glycelene
ORANGE BLOSSOM PEPTIDE MIST
ORANGE BLOSSOM OXYGEN PEPTIDE MIST IS A LIQUID SERUM, TONER AND ESSENCE IN ONE
A peptide powered mist that tightens, purifies and reduces pore size. Hyaluronic Acid, Niacinimide, Montmorillonite Mineral Extract and Neroli Water work effortlessly to hydrate, plump and oxigenate skin to help your complexion look its most beautiful and radiant.
Best For - All Skin Types, Anti-Aging 
Montmorillonite mineral extract: It reduces pore size and sebum evolution without reducing skin hydration
Peptides: Instantly plumps skin
Niacinamide: Vitamin B3 vasodilator to increase surface circulation to flush out toxins
Hyaluronic Acid: Helps to retain moisture, strengthen skin's barrier resulting in softer, smoother, plumper skin • Organic Glycerin: Soothing and healing
Orange Blossom Extract: A rare skin regenerating, anti-aging extract from France known to promote skin elasticity and help fight inflammation and wrinkle formation
After cleansing, hold the bottle half an arms-length from your face, close your eyes and apply three pumps. Use in the morning to revitalize and hydrate your complexion and during the day as a quick refresh. Orange Blossom Oxygen Peptide Mist can also be used as a makeup setting spray. To use as a Toner- Mist onto a cotton pad and gently sweep over face, neck and eyes. DO NOT RINSE OFF. Follow with Glycelene Beauty Serum.