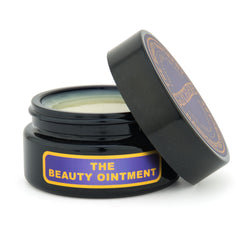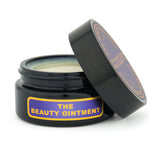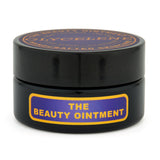 Glycelene
THE BEAUTY OINTMENT - FRENCH LAVENDER
Breathable, Petroleum Jelly Alternative 
The Organic Superstar Beauty Balm                                            
A luxurious indulgence in organic french lavender. This rich one of a kind anti-aging ointment doubles as an intense beauty balm for dry areas needing extra nourishment. This unique ointment is rich in Omega-6 and CoQ10. It rejuvenates and revitalizes while repairing damaged and aged skin.  The Beauty Ointment is a dynamic, multi-functional skin and lip care product. Comes in two sizes. Large is best for home on your nightstand and small size when you're on the go.

Best For - All Skin Types, Dry, Dehydrated Skin and anyone that loves French Lavender.
This organic superstar of the beauty industry is hand-crafted, hand poured and infused with age defying CoEnzyme Q10, soothing Shea Butter + Glycerin plus exotic oils such as Rice Bran, Rosemary and Tocopherol. In addition, powerful antioxidants such as Acai, Babassu and Passion Fruit increases skin hydration while our proprietary Olive Oil Blend soothes skin to create a dynamic multi-functional lip & face balm. Blended with 100% pure therapeutic grade lavender essential oil from Provence, France.
DERMATOLOGIST RECOMMENDED | CRUELTY FREE | CERTIFIED ORGANIC | FAIR TRADE | VEGAN | PETROLEUM FREE | PARABEN FREE | FRAGRANCE FREE | GLUTEN FREE | PRESERVATIVE FREE | NO GMOs | NO BEESWAX | HAND CRAFTED
Apply generously to any area in need of hydration. Excellent for all skin types. Use several times a day for best results.
For a hydration mask, apply to face, neck, and decollate overnight for maximum hydration.