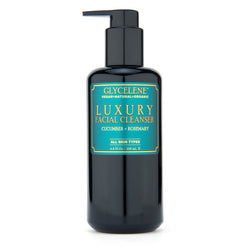 Glycelene
LUXURY FACIAL CLEANSER
CALM. REGENERATE. REFRESH
A gentle, herbal cream cleanser that removes makeup, sunscreen and other impurities. A wealth of exotic oils and botanical extracts leave skin feeling clean, supple and deeply nourished.  Best for makeup removal, dry, dehydrated, normal, combination and sensitive skin.
Skin Tip - Use with a cleansing brush for a deep-pore cleanse.
A luxurious and herbaceous infusion of cucumber and rosemary to reduce inflammation and breakouts
Gentle deep cleansing that leaves skin hydrated without stripping
Removes even the most stubborn makeup and surface impurities
Anti-aging
Pore minimizing
Regenerating
Hydrating, calming and purifying
Formulated using the most premium, natural ingredients such as:
Cucumber Extract - to calm and cool.
Rosehip Oil - loaded with essential fatty acids, vitamin E, vitamin C and Beta-carotene, a form of vitamin A.
Sea Buckthorn Oil - promotes skin health and is a rejuvenating natural cleanser + exfoliator. It helps slow down the signs of aging by nourishing the tissues in your skin and even helps treat and prevent blemishes. Skin feels refreshed and new.
Rosemary Extract - a natural astringent.
Shea Butter is hydrating and retains moisture in the skin.
FREE FROM • SOAP • DETERGENT • ALCOHOLS • FRAGRANCE • SULFATES • PEGS • PARABENS • PHTHALATES • ETHOXYLATES • SYNTHETIC INGREDIENTS
Step 1: AM/PM - Massage a generous amount of cleanser onto dry or slightly damp skin. Massage with light circular motions. Rinse off or remove gently with a warm washcloth.
Step 2 : Follow with Orange Blossom Oxygen Infusion for combination to oily skin types or Cucumber Cleansing Water for dry/dehydrated, sensitive skin and rosacea.
*SKIN TIP: Pump 2-3 pumps Luxury Cleanser and 2-3 pumps Orange Blossom Oxygen Infusion OR Cucumber Cleansing Water into hands. Mix and apply to face massaging in circles for 30 seconds. More toner can be applied for more slip. Rinse and repeat. NOTE - Keep glass bottles on the counter, keep out of the shower*