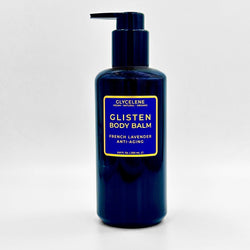 Glycelene
GLISTEN BODY BALM - FRENCH LAVENDER
GLISTEN BODY BALM
Remarkably decadent, semi-solid luxurious hydration. This seductive body elixir will have your skin craving for more. A rich and tantalizing infusion of the highest grade organic, exotic botanical oils that are hand blended to create the finest and purest potion for your body. In Aromatherapy, French Lavender provides a very calming sensation to relax the mind and the body, and even has various healing properties.
Nut-free. Organic. NON-COMEDOGENIC-Will not clog pores
-Promotes long-lasting hydration, regeneration, and silkiness to the skin.
-Absorbs quickly.
-Soothing to skin.
-Does not transfer onto clothes or sheets.