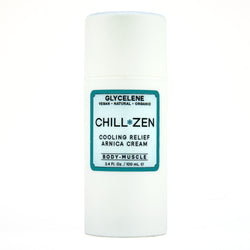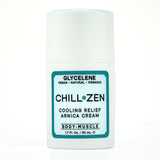 Cooling Relief Arnica Cream For Sore Muscles
A carefully formulated, natural blend of premium plant and essential oils to target areas of discomfort. Organic Birch, Menthol, Peppermint and Wintergreen deliver an intense cooling sensation that relieves aches, while Arnica helps relieve sprains. muscle pain and other inflammation.
BEST FOR - Anyone who wants to reduce the feelings of muscle aches and pains.
SKIN TIP - For best results, exfoliate first using Pink Sands in a warm shower to open your pores. After showering, apply CHILL ZEN™ onto muscle aches and strains while the body is warm. 
Concentrated Arnica Extract, used for centuries for it's natural calming qualities, helps to ease strain and discomfort.
Helichrysum and Eucalyptus helps cleanse your body of toxins.
Clove Oil is used commonly for treating joint and muscle pain
Organic Shea Butter conditions and moisturizes the skin.
Apply a generous amount to the area of discomfort and massage in. Use as many time as needed. A second layer can be applied for a more intense treatment.
KIM'S SKIN TIP:
Step 1:Use with CHILL ZEN ARNICA RECOVERY OIL.
Step 2: Apply CHILL ZEN ARNICA RECOVERY OIL first after showering on damp skin, massaging in.
Step 3: Apply CHILL ZEN COOLING RELIEF ARNICA CREAM to ankles, legs, arms and anywhere sore on the body
Step 4: Can be applied to tired feet. Once applied, put warm socks on.
Step 5: Wash your hands, relax and enjoy.