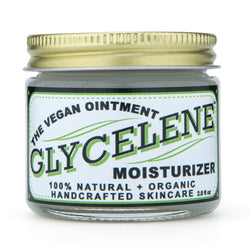 Glycelene
THE VEGAN OINTMENT
FOR CRACKED SKIN RELIEF
A petroleum-free ointment that heals, relieves and repairs extremely dry, cracked lips and skin, especially feet, cracked elbows and hands. 
This thick, multi-use ointment instantly moisturizes and nourishes your skin with a unique blend of organic fair-trade shea butter, organic glycerin, and the highest quality organic oils. Its silky, thick application forms a barrier that pulls water from the air and delivers it to the skin, preventing moisture loss.
Organic Glycerin (100% Vegetable Derived), Organic (Fair-trade) Shea Butter, Organic Sunflower Seed Oil, Proprietary Olive Oil Blend
DERMATOLOGIST RECOMMENDED | CRUELTY FREE | CERTIFIED ORGANIC | FAIR TRADE | VEGAN | PETROLEUM FREE | PARABEN FREE | FRAGRANCE FREE | GLUTEN FREE | PRESERVATIVE FREE | NO GMOs | NO BEESWAX | HAND CRAFTED
Apply generously to any area in need of hydration. Excellent for all skin types. Use several times a day for best results.