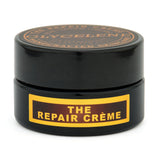 Glycelene
THE REPAIR CRÈME
A Rich, Anti-aging Frankincense Night Cream  
A restoring, frankincense crème for instantly soft, supple, and youthful-looking skin. Our scientifically developed formula will help reduce lines and wrinkles, improve overall skin tone and elasticity, while it also works simultaneously to repair and rebuild collagen long term. 
Formulated with Glycelene's powerful Anti-Aging Complex ™, powerful peptides and plant stem cells, this skin soothing wonder creme is high in beta glucan which is a wrinkle reducer, promotes wound healing and reduces scarring.

Best for rosacea, dry, sensitive, sun damaged, skin and all skin types in search for a night time cream or neck cream.

This breakthrough face and neck cream is balanced off with a unique pH mineral suspension and blended with the exotic aroma of Organic Frankincense. The highly potent anti-aging cream is a modern day approach to aging gracefully … and a winning alternative to help empower those who might just want to say, "No thank you" to needles.
Creates a soft focus to instantly reduce fine lines and wrinkles
Helps to firm and lift the skin naturally from within
Helps to reduce pore size and hyper-pigmentation
Increases rapid cell turn-over and regeneration