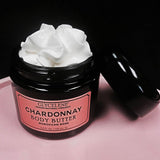 Glycelene
CHARDONNAY BODY BUTTER - MOROCCAN ROSE
AN AGE-DEFYING LUXURY BUTTER FOR DRY SKIN RELIEF
This gorgeous, whipped butter features a stunning array of luxurious, healing extracts and antioxidants infused in a romantic blend of organic essentials oils. Tissue-repairing chardonnay grape oil, squalane and prickly pear softens skin for a more youthful appearance. A romantic citrusy-rose aroma detoxifies and uplifts the body, mind, spirit. Our 100% natural formula contains a unique blend of cactus extracts that help moisturize and replenish skin's natural lipid barrier. Best for dry, mature skin.
Rich in the luxurious, highly prized Chardonnay Grape Seed Oil which is an anti-inflammatory, antioxidant and high in phytonutrients to repair damaged skin.
High in vitamins A, C, E and K which prevent premature aging and stimulate healthy skin cell production.
Cactus Oils and extracts help replenish skin's natural barrier and protect against free radicals.
Infused with a premium Squalane which improves the moisture balance and elasticity to heal chapped and cracked skin.
After shower or bath, pat your body dry with a clean towel. Do not rub or dry yourself completely; leave a little moisture on your skin. Apply a dollop of Chardonnay Body Butter directly to your skin — if using a generous amount, let butter absorb slowly for a 1/2 hour as a leave on hydration body mask treatment.
Beauty Tip: Exfoliate first with Pink Sands, rinse and apply Chardonnay Body Butter immediately after showering.