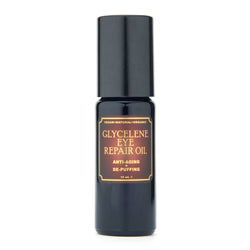 Brighten, Tighten, De-puff + Decongest 
Rapidly wake up tired looking eyes. Formulated with Cucumber, Rosemary Extract & Vitamin C Ester to refresh the eye area and remove unsightly bags, puffiness and dark circles. Blended with the purest Squalane & Brown Seaweed extract harvested off the coast of Brittany, this powerhouse oil also softens fine lines and corrects dark spots. Comes in a stainless steel rollerball that feels refreshing, like ice on the skin.
Best For - Puffy under eyes, dry skin, dark circles
GLYCELENE BRIGHTENING COMPLEX - A unique blend of high concentration exotic botanicals that work together to naturally improve skin clarity. Our brightening complex protects the cells against UV-B better than other esters of Vitamin C while delivering Pure Vitamin C 50 times better then ascorbic acid.
BROWN SEAWEED - From the shores of Brittany, France, this special seaweed is rich in vitamins & minerals such as Vitamins D, B1, & B2. This Seaweed is an anti-inflammatory, anti-wrinkle & anti pollution skin soothing DNA protectant. Prevents pre-mature aging.
VITAMIN C ESTERS - Highest grade of all natural Vitamin C that works as a powerful anti-oxidant that eliminates age spots while providing collagen synthesis & DNA protection. In vivo tests show a 3% whitening/brightening in 3 weeks.
CUCUMBER EXTRACT - A skin-tightening, anti-inflammatory that is rich in vitamins, minerals & enzymes essential for strong cell growth and repair. It revitalizes stressed and tired skin, leaving it refreshed & radiant.
SQUALANE - From the olives of France, this pure oil is absorbed quickly without leaving any residue. This wrinkle reducer acts as a hydrating barrier that not only softens & smoothes, but reverses UV damage, reduces scars and balances the complexion leaving a brighter, more youthful appearance
Gently swipe under eye area and pat in AM or PM and anytime needed.
BEAUTY SECRET: Take ring finger and dab excess on any dark spots and above lip to help rid lip lines. For advanced treatment, use over Opalescent Eye Serum and Glycelene Beauty Serum.