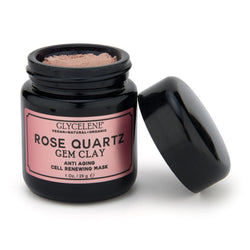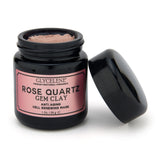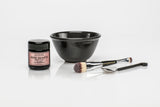 Glycelene
ROSE QUARTZ GEM CLAY
ANTI-AGING. SKIN TIGHTENING. ACTIVE RENEWAL MASK.
 A detoxifying, bioactive mineral powder that transforms into an active mud mask when infused with water or Orange Blossom Oxygen Peptide Mist. Once blended, the luxurious minerals, actives and botanicals come to life creating an ultra-concentrated paste. Once applied, the  invigorating ingredients will start to detoxify and tighten pores, boost circulation, calm inflammation, treat blemishes and awaken a dull complexion. This powdered mask creates a cooling, silky texture that glides right onto the skin.
Best for all skin types and congested skin.
Skin Tip - Rose Quartz Gem Clay can also be mixed with our Kalahari Cooling Collagen Mask and applied onto skin for the ultimate skin tightening power mask.
 Skin Tip for a deep facial cleanse - Mix Rose Quartz Gem Clay and Luxury Cleanser together and create a mud cleanser or mud cleansing mask. 
Hyaluronic Acid – Retains moisture in the skin and improves elasticity
Ferulic Acid – A potent antioxidant
Licorice Root Extract – Fades age spots and hyperpigmentation
Cumin Extract – Antioxidant and fades age spots
Sea Salt Super Minerals – Boosts osmotic gradient
Emblica Fruit Extract – Reduces hyperpigmentation, brightens, evens skin tone, antioxidant
Cumin-Tetrahydrocurcuminoids – Antioxidant and powerful anti inflammatory, skin brightener
Green Tea Extract – Strong Antioxidant plus antibacterial, evens skin tone