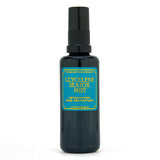 Glycelene
GLYCELENE SEATOX MIST™
DETOX MIST
Glycelene Seatox Mist™ is a revolutionary, alcohol-free face mist with soothing and protective ingredients from the sea, and the anti inflammatory extract of Dragon's Blood which is extracted responsibly from the Dragon's Blood Tree. An uplifting yet calming face mist with marine notes that delivers actives & antioxidants immediately to the skin to hydrate and support skin cell renewal. This refreshing spritz is formulated with a patented technology that repels pollution and protects the skin from free radicals throughout the day. 
Best For - All Skin Types
This miracle mist is enriched with sea botanicals such as Astaxanthin, three different types of algae and a patented probiotic from the deep sea thermal vents to protect your skin against pollution and keep skin hydrated. This detox mist is blended with pure deep sea water that is rich in minerals and Dragon's Blood Extract to help with inflammation and bad bacteria.
Proprietary mixture of berries provide powerful antioxidants
Contains extracts collected from deep-sea thermal vents
Protects the skin from external daily pollution
Deep Sea Water detoxes and re-mineralizes skin
Dragon's Blood Extract effectively helps with inflammation and bad bacteria
Mist Seatox on face anytime especially before and after yoga or a workout. Excellent during travel to keep skin hydrated and detoxed. Can be used to prep and re-set make-up. Recommended as finishing mist in any facial protocol.