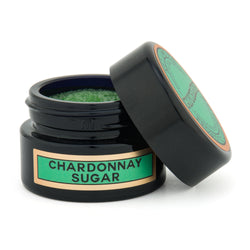 Glycelene
CHARDONNAY SUGAR PROBIOTIC LIP POLISH - KEY LIME PIE
EXFOLIATE, PREP AND NOURISH YOUR LIPS
A healthy, 100% natural lip scrub & prep that gently smooths and renews. This naturally green lip scrub uses a proprietary delivery system for a deeper & faster penetration of premium key ingredients to instantly renew your lips.Polishing your lips with Chardonnay Sugar weekly will help give the lips a fuller more plump appearance and  keep your lipstick and lip gloss lasting longer. 
Best For - Dry Lips , Flaky Lips , Lip Wrinkles and Fine Lines 
Smooths the appearance of lines and uneven texture which gives your pout a youthful appearance.
CHARDONNAY GRAPE SEED OIL Coldpressed. Bursting with antioxidants and phytonutrients. It is one of the only true cold pressed grapeseed oils available.
PROBIOTIC SUGAR Anti–Aging improves inflammatory lip conditions Strengthen the lip barrier Buff away dry flakes Topical probiotics promote better moisture absorption and aid in delaying the signs of aging.
LACTIC ACID helps reduce the appearance of wrinkles and contains exfoliating properties that improve dry and dull lips. They also contain nourishing properties that soothe sun-damaged lips.
OMEGAS 3, 6 & 9 Essential Moisture Barrier Protection These pro-fatty acids help visibly plump & increase radiance by strengthening lip moisture barrier & improving its ability to retain water.
CoQ10 Strong Antioxidant The loss of collagen and elastin causes your skin and lips to wrinkle. CoQ10 helps to neutralize the harmful free radicals that are one of the major causes of aging.
VITAMINS E, A & C Improves the Health & Quality of Your Lips These vitamins are key for cell growth and as a topical anti-aging treatment.
Chardonnay Sugar makes it the perfect prep step before lipstick. • Apply to lips using the fingertips and scrub in a circular motion. • Tissue off or leave on and lick the lips. Rinse off if desired. • Apply The Beauty Ointment or Lip Remedy/Lip Supplement afterwards for best results. • Use two to three times weekly. • Store sealed and flat in a cool, dry place.